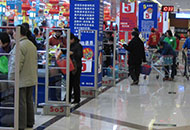 Abscissa's personnel are extremely agile and vigilant. Events of any scale, especially those that involve large participation, are susceptible to several types of threats such as fire, bombs, theft, stampede, brawls, accidents and emergency health-conditions like heart-attacks et al. They are quick to identity pockets of vulnerability and notoriety even before any sort of emergency sparks off and strengthen security arrangements in the same. During the event, the personnel are well-connected and in case of an emergency can call for action and coordinate at once not only amongst each other but also with external emergency help providers such as ambulance, police and fire engine.
Abscissa's personnel take charge of these areas ahead as a preventive step. They are also strong at mob-control and can ensure that no case of chaos occurs. Abscissa is equipped to offer event security service at its best with/ without the help of surveillance equipments, CCTV and control room.
Event relevant value-add services that our personnel are equipped to handle ticket checking, escort to celebrities/ chief-guests, fire-rescue, first-aid and preliminary paramedic support, and car-park traffic management and valet services.