Training
OUR SOLUTIONS & DIFFERENTIATORS
Training Security Professionals at Abscissa are trained to think and take pride in the service they do. With ownership and pride comes a reluctance to commit mistakes and so the quality of security provided to clients increase many fold.
Abscissa offers one-week intensive training program, a mix of theory and practical classes. Besides basic guarding skills, the personnel are trained on techniques in self-defense, patrolling, fire-fighting, intelligence gathering, anticipatory thinking, discretionary thinking, vigilance, first-aid and so on. Some bright security guards are also taught basic courses in Computers, Dress Etiquette, Communication, Signaling through Whistling and Torches, Phone Etiquette, and Traffic Control. They undergo extremely intensive fitness regime. They are also put through stress-relief programs.
Abscissa also conducts continuous training programs for Mass Training, Unit Training and Refresher Programs.
PRESENT TRAINING INITIATIVES
Training is being imparted at training center at Bangalore, the organizing conducts Training modules covering a wide canvas of soft skills, org behavior, team building besides other security oriented subjects. Our training modules are framed as per PSA(R)Act mandates. The training coverage is.....Refresher Training - Condensed and intense capsule refreshing basic training coverage for the trainees after completion of 12 months service.
Unit level Training - Training on specialized subjects conducted in unit locations by trainers from head quarters, as per client request.
Induction and customized Training - Imparted to guards focusing on peculiar requirements of both client and requirement ( Manufacturing, Hotel, IT ,Corporate).
Specialized Training - Framing and conduct of specialized training on evacuation drills, fire alarms, access control, etc involving client participation in the activity.
Our team is qualified and experienced for training in security, asset protection, fire fighting, casualty evacuation, emergency management and disaster control besides other domains.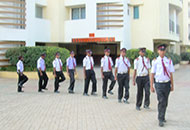 Guarding Personnel
Selection of personnel meeting customer QR, training at our state of the art training facility, on the job training in the establishments and a close order monitor and control on a regular basis, Interaction with customer for performance appraisal is how we conduct guarding. Our highly qualified Security Guards work in combination with security system to provide the maximum protection plan available. We select our Guards using the highest standards of professionalism and honesty. We perform audit and background investigations on each employee as well as extensive screening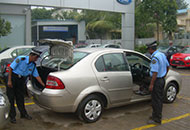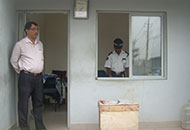 Industrial & Corporate Security
Abscissa's security personnel are qualified to handle all kinds of guarding services such as Fire-fighting, first-aid and other such pivotal life-saving techniques. The reception areas include security screening at the gate and maintaining visitors' entry, car-park traffic management. guarding warehouse/ storage areas, escorting goods in transit, continuous patrolling, handling control room/ CCTV are monitored effectively.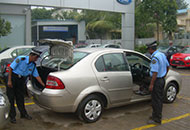 Security Service for Appartment & Villa Projects
Abscissa offers 24x7 guarding services to residence structures of all sizes – individual houses/ apartment complexes/ gated community/ condominiums and also commercial structures such as retail chains/ malls/ hotels/ hospitals/ schools/ etc.
Routine services here include gate-keeping, patrolling, handling control room/ CCTV and alarm monitoring, mob-control, car-park traffic management and security, and organized evacuation during emergencies.
Value-add services offered are fire-rescue, first-aid and preliminary paramedic support, and valet parking
Event Guarding Services
Abscissa's personnel are extremely agile and vigilant. Events of any scale, especially those that involve large participation, are susceptible to several types of threats such as fire, bombs, theft, stampede, brawls, accidents and emergency health-conditions like heart-attacks et al. They are quick to identity pockets of vulnerability and notoriety even before any sort of emergency sparks off and strengthen security arrangements in the same. During the event, the personnel are well-connected and in case of an emergency can call for action and coordinate at once not only amongst each other but also with external emergency help providers such as ambulance, police and fire engine.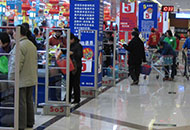 Abscissa's personnel take charge of these areas ahead as a preventive step. They are also strong at mob-control and can ensure that no case of chaos occurs. Abscissa is equipped to offer event security service at its best with/ without the help of surveillance equipments, CCTV and control room.
Event relevant value-add services that our personnel are equipped to handle ticket checking, escort to celebrities/ chief-guests, fire-rescue, first-aid and preliminary paramedic support, and car-park traffic management and valet services.

Security Service for Hotel Industries
Comprehensive security solution consisting of guarding along with External and Internal Patrolling and setting up of a discreet and un-breachable control stations.It becomes more important that guards be trained to use the equipment effectively, while retaining the welcoming ambience of the hotel.
we have developed a specialized training program which prepares security personnel to deliver on the new challenge facing the Hotel Security.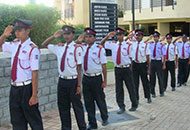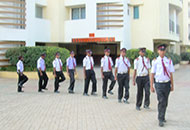 This solution is supported by a management team dedicated to Hotels business, for excellent operations management and quicker turnaround of customer's concerns. All this has an assurance of a Brand which has been around for a while and where Customer focus, expertise, performance, best people, integrity, teamwork and collaboration are the core values.