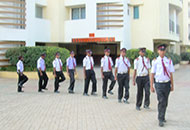 OUR SOLUTIONS & DIFFERENTIATORS Training Security Professionals at Abscissa are trained to think and take pride in the service they do. With ownership and pride comes a reluctance to commit mistakes and so the quality of security provided to clients increase many fold.
Abscissa offers one-week intensive training program, a mix of theory and practical classes. Besides basic guarding skills, the personnel are trained on techniques in self-defense, patrolling, fire-fighting, intelligence gathering, anticipatory thinking, discretionary thinking, vigilance, first-aid and so on. Some bright security guards are also taught basic courses in Computers, Dress Etiquette, Communication, Signaling through Whistling and Torches, Phone Etiquette, and Traffic Control. They undergo extremely intensive fitness regime. They are also put through stress-relief programs.
Abscissa also conducts continuous training programs for Mass Training, Unit Training and Refresher Programs.
PRESENT TRAINING INITIATIVES
Training is being imparted at training center at Bangalore, the organizing conducts Training modules covering a wide canvas of soft skills, org behavior, team building besides other security oriented subjects. Our training modules are framed as per PSA(R)Act mandates. The training coverage is.....Refresher Training - Condensed and intense capsule refreshing basic training coverage for the trainees after completion of 12 months service.
Unit level Training - Training on specialized subjects conducted in unit locations by trainers from head quarters, as per client request.
Induction and customized Training - Imparted to guards focusing on peculiar requirements of both client and requirement ( Manufacturing, Hotel, IT ,Corporate).
Specialized Training - Framing and conduct of specialized training on evacuation drills, fire alarms, access control, etc involving client participation in the activity.
Our team is qualified and experienced for training in security, asset protection, fire fighting, casualty evacuation, emergency management and disaster control besides other domains.